Propaganda (det är ju så kul att trasha den judiska staten!)
Just nu sprids (som alltid) bilder i syfte att trasha den judiska staten och de hjärntvättade svenskarna är så klart inte sena att haka på.
Bilden nedan sprider sig på Twitter. "Israel dödar små stackars palestinska barn, för skojs skull" osv osv osv.
Undersöker man saken så har denna flicka "dött" väldigt många gånger.
Alltid mördad av israelerna, så klart.
Men nu stämmer det ju inte.
In fact, the photo was taken by Reuters on August 9, 2006. It was originally released with an incorrect caption, and then corrected a day later:
A Palestinian man carries the body of three year-old Raja Abu Shaban, in Gaza August 9, 2006. The three-year-old girl who had been reported killed by an Israeli air strike in Gaza on Wednesday actually died of an accident, Palestinian medical workers said on Thursday. Workers at Gaza's Shifa hospital said on August 10, 2006 that the initial mistake over the cause of death appeared to have arisen because the girl's corpse was brought in at the same time as the bodies of the gunmen. REUTERS/Mohammed Salem (PALESTINIAN TERRITORIES)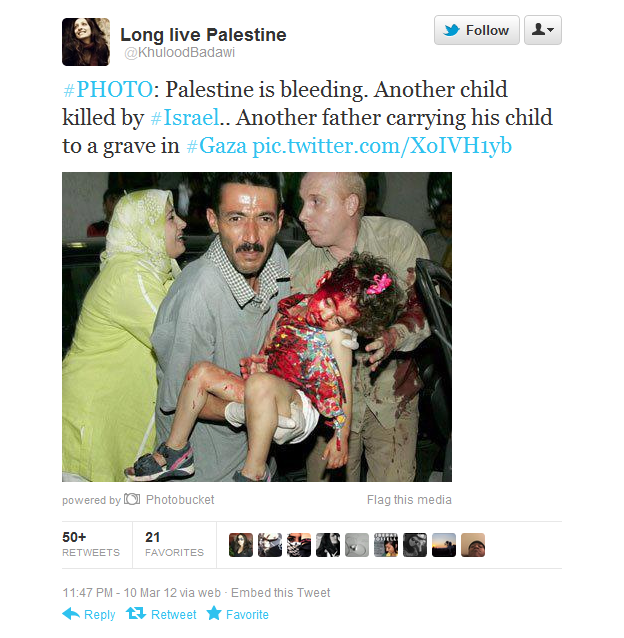 Exempel nummer två (se skärmdump nedan).
Earlier today, an anti-Israel activist named Maissam Nablussi posted this photo on Facebook, claiming it was of "Gaza under attack today." Another Twitter user contacted me, asking if I could confirm that it was, in fact, taken today. Using a website called TinEye, I discovered within seconds that the photo has actually been around since at least 2009, and has appeared online no fewer than 43 times – http://bit.ly/wYdP14. In other words, Ms. Nablussi's claim was a lie. She has since barred access to the photo on Facebook, but unfortunately for her, the falsehood has already been preserved for posterity. Feel free to share far and wide.